GALAXSAW LLC is based in Troutdale, and serving Rose City, and metro area.
Licensed, Insured, Bonded. State of Oregon Construction Contractors Board #233510
Besides residential repairs and fixture replacements, we specializing in repairs for rental properties, domestic violence property damage repairs, locks change, wireless security camera installations, and other small under 4 hours projects.
Residential handyman rates
Scope of project identification. 15-30 minutes- $0.00
General handyman services. First hour- $120. Additional hour- $60
Electrical and Plumbing handyman services. First hour- $180. Additional hour- $60
Specializing in small, 4 hours or less interior projects, and exteriorassemblies of any size.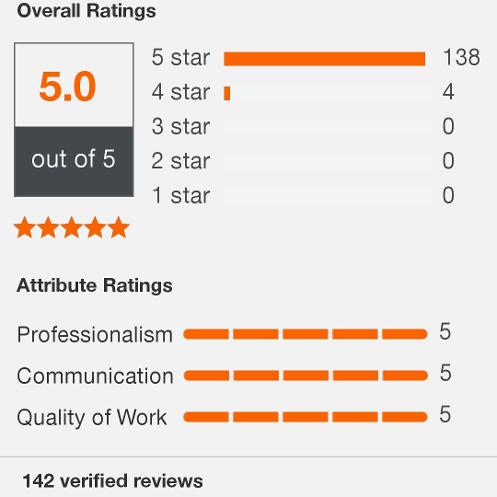 Customer feedback is at the bottom of this page
About
After months of being submerged, as a commercial carpenter, in 649,000 square feet of concrete walls in the new construction building in Beaverton, the idea of GALAXSAW was born. Since that time we have been trying to concentrate on small projects for our community. Here at GALAXSAW we understand the significance of quality customer service. We pride ourselves on delivering courteous, professional, and reliable service to ensure that you and your family have the best possible experience. We thank you for taking time to visit our site and hope you will soon experience the quality of our performance.
Electrical and plumbing fixture replacement
Cabinet Hardware Installation
Cabinet Repair
Carport Assembly
Domestic Violence Property Damage Repairs
Door Lock/Hardware Installation
Door jamb repair
Electric Cooktop Installation
Exterior Trim Repair
Faucet Repair/Installation
Fence Repair
Gable Vent Installation
Grab Bar Installation
Greenhouse Assembly
Mortise Door Lock Removal/Fill

Outdoor Furniture Assembly
Over The Range Microwave Installation
Pet Door Installation
Screen Repair
Security Cameras Installation (wireless)
Sink Replacement
Smart Door Lock Installation
Smoke Alarm Installation
Toilet Repair
Toilet Replacement
Vanity Installation
Vent Replacement
Window Mounted AC Installation
AND MORE...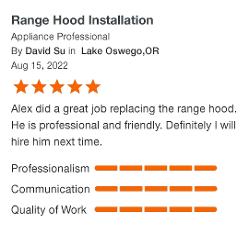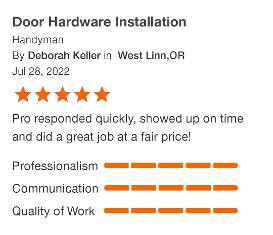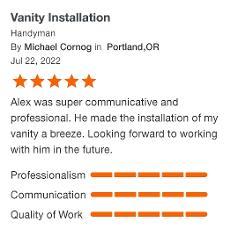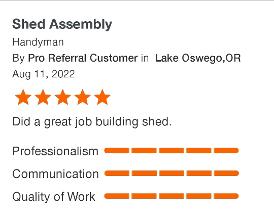 Click reviews below to enlarge